Enjoy Your Wine Without Sulfites
Thousands of people are going sulfite-free to reduce free radical intake and lead a preservative-free lifestyle. All wines contain some level of harmful sulfite preservatives, either added or naturally-occurring as a bi-product of the fermentation process. Now you can quickly and easily remove all sulfites from your glass of wine.
The most effective sulfite removal device on the market
Removes sulfites instantly

Portable and easy to use

Eliminate symptoms associated with ingesting sulfites

The only sulfite-removal device that claims to be 100% effective

Made only with FDA-permitted, food-grade ingredients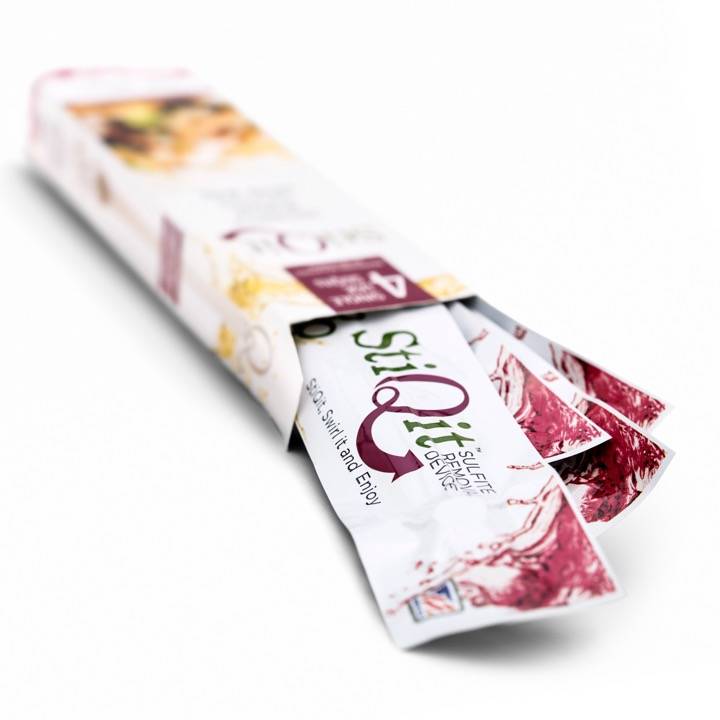 "I've tried every wine purifier and sulfite remover on the market and StiQit is hands down the best. It doesn't change the taste, it's easier to use, and most importantly, it works. Highly recommend."
- Janette
"Absolutely awesome product! I've never been able to drink wine without suffering from a migraine. StiQit works perfectly and quickly!"
- Kimberly
"Haven't drank any alcohol for 6 years because I would have a bad reaction, swelling of throat and itching. Had 2 glasses of wine tonight . No adverse reaction so happy. Now wish someone would invent something for Beer! Went to 4 physicians said they don't know why this happens, but , there are a lot of people out there who can't have any alcohol! Just thrilled with your product."
- Josh
"The wife of a regular uses these and I tried one on her suggestion. I opened a bottle of one of my usual cab savs and am happy to report that the StiQit didn't alter the nose or flavors of the wine. As a wine purveyor, I'm very finicky when it comes to products I stock, but I'm eager to add StiQits to my checkout options."
- Ken, Broad St. Spirits & Wine
"I used to get a migraine after one glass of wine. I haven't gotten one migraine since I started using StiQit. AWESOME!!"
- Mallory
Every wine contains sulfites. Even if winemakers choose not to add sulfites to their wine (you'll see "no added sulfites" on these labels), some sulfites will still occur naturally through the fermentation process. This applies to all types of wine: domestic and international; organic and non-organic.
In other words, even the nicest wines contain sulfites regardless of year, import and flavor. Removing sulfites not only helps reduce the risk of sulfite-causing symptoms like facial redness, worsened morning-after headaches, and nausea, but is part of an overall healthy, preservative free lifestyle.